Dear Polarion Friends,
It's hard to believe that time of year is already here when the days start getting shorter and it becomes darker outside much earlier. It is also the time of year when most organizations have started their strategic and budget planning processes. At Polarion we have been busy over the summer months preparing for just this and now our customer service and sales team would like to help you with your planning and software needs.
So for all of you that are looking for new Requirements Management, Test Management or ALM software to roll out in 2014 or for our valued customers who are looking to expand their existing products check out Polarion's Early Access Program (EAP) and our Service Release 2 (SR2) and let us help you get started right now.!
Happy Reading,
Frank Schröder
Getting ready for Polarion's Early Access Program (EAP).
For the past 3 years we have engaged with our user community through our EAP. Collaborating this way has proven a great help to us in understanding what our users value most, and in prioritizing our product development accordingly. Again this year, we invite the community to interact with our team on the next major Polarion version: Polarion 2014. Learn more...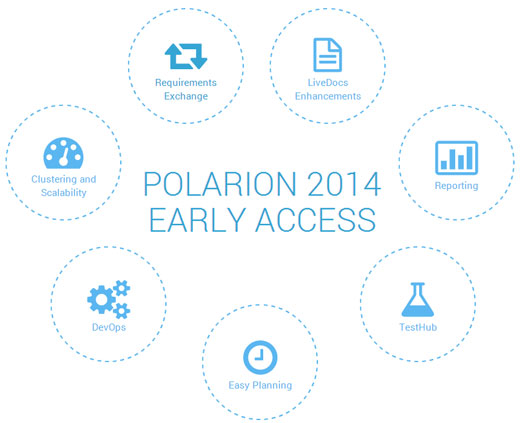 Review: Polarion Live 2013 - User Conference in Stuttgart
Again this year, Stuttgart, Germany was host to over 140 people from Germany, Austria, Switzerland, and Finland who joined us for the Polarion User Conference on October 1, 2013. The program featured presentations not only by Polarion employees, but also from several customer and partner companies. Attendees came away better able to utilize Polarion solutions within their own organizations, benefitting from information gained from interactive discussions, networking within the community, and sessions covering hot industry topics like AML/PLM Convergence ("PALM"), DevOps, Variant Management, and more.
Read more about the event, download presentations, view live tweets and photos:
Visit the event page.
Polarion version 2013 Service Release 2 (SR2) is available
This is an update for all Polarion products. It is free to all customers with a current maintenance subscription. You can download the update distribution at http://www.polarion.com/downloads/update.php.
A new Easy Prioritization feature enables you to select any number of Work Items in the Table view and use the new Prioritization panel to change their priority either by numerical value or by drag-and-drop. We have also delivered some significant performance improvements that make some back-end operations 5 times faster.
For details on these and other new features and significant enhancements, please stop by our blog and have a look at "Polarion 2013 SR2 - New and Noteworthy".
What people have to say about Polarion
With over 1 million users it is no wonder that customers continue to share their good news with us. Polarion has been recognized as an industry leader…
"Sirona Dental Systems uses Polarion Solutions not solely to achieve compliance with medical device regulations like FDA or IEC 62304 but moreover to make all data in the development process lifecylce more transparent for all parties involved, like developers, project managers and quality managers. That's reached by using Polarion's flexibility and adaptable reporting capabilities. The result is a more efficient and transparent document handling thanks to Polarion Solutions."
Michael Dalpiaz, Sirona Dental Systems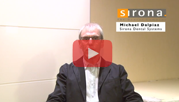 Michael Dalpiaz,
Sirona Dental Systems

Watch now »


Partner Announcements
Polarion Technology Partners extend the functionality of Polarion software products by providing plug-ins, adapters, connectors and technical services. Polarion partners share our innovative approach to software lifecycle management, and maximize the effectiveness of existing applications for our customers. We are excited to announce our two newest partners QMetry and Klocworks. Read More:
Join Polarion at the Better Software Conference East in Boston November 12, 2013
Our very own Stefano Rizzo, SVP Strategy & Business Development a leading expert on ALM/PLM will be speaking at this conference. Don't miss the opportunity follow the tweets and blog articles surrounding this much anticipated topic.
According to the agile philosophy, the users must be part of the development team. But, Stefano Rizzo asks: What if there are thousands of users with good ideas dispersed around the globe and around the clock? Can a Product Owner really represent all their interests? At Polarion, Stefano says they have used social media to successfully couple agile methods with more traditional requirements elicitation approaches. Read More
SAVE THE DATE:
Tuesday, November 12, 2013 - Better Software East, Boston, USA
Seminar: "Risk Management - Where Software Testing & Requirements Management Converge"
Join Polarion Software and Vector Software as they showcase the unparalleled potential of their partnership to ensure quality, reliability and compliance in the development of critical software systems.