Dear Polarion Friends,

As social media continues to play a strong role in our society and professional livelihoods I was pleased to receive such a strong following to our blog and tweets. As with all opportunities to reach our customers and more importantly for them to reach us, Polarion's innovative approach to building social media right into our software underpins our commitment to innovation. With discussions, polls, Activity Streams, and the "My Polarion" dashboard we leverage social media that allows you to collaborate in real time.

Speaking of innovation Polarion has once again taken the lead in developing better, more adaptable functionality with the existing products you already have. Polarion LiveDocs™ works seamlessly with your existing Microsoft® Products. We believe you should not have to adapt to your software; but make your software adapt to you. LiveDocs was first released with Polarion 2011 and is clearly the innovation that makes Online Authoring, Importing, Exporting, and RoundTrip™ with third parties easier than ever before. It allows you the usability of Word without any of the limitations.

As we are well into the summer now, on behalf of everyone you work with at Polarion, please enjoy the warmer weather and time with family and friends.

Happy Reading,
Frank Schröder
Product News
If you have been following one of The Experts, Jiri Walek at Polarion you will no doubt have been caught up in the buzz around the recent Polarion Service Release (SR1). Users have been tweeting about the new functionality in this release, especially the new Approval Centre. To read more about the new features in SR1 see "Polarion 2013 SR1 New and Noteworthy"
WHAT'S IN IT FOR YOU?
Every service release delivers small fixes, as well as usability, and performance. This release is no exception, and it also includes a number of new features and useful enhancements that will later add up to comprise the Polarion 2014 major release, thanks to our incremental Agile development process.
Recently launched along with the SR1 is a new integration extension:
Polarion Connector for MATLAB Simulink
This user community is excited with the new connector provided for free to all the Polarion and Matlab SIMULINK users. The connector lets you link Simulink and State flow models with Polarion requirements and design items. Such traceability is needed to ensure the traceability between the functional specification and system design and model. Being able to process the change request quickly but keep the hi-level of quality and consistency is a must have requirement these days.
Read more about the App or watch our On Demand Webinar MATLAB Integration with Polarion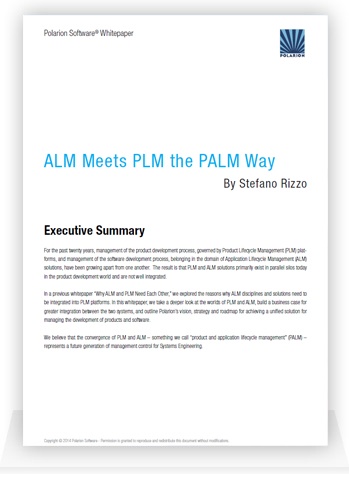 White Paper:
ALM Meets PLM the PALM Way
Polarion continues to predict the convergence of Product Lifecycle Management (PLM) and Application Lifecycle Management (ALM), something we call "product and application lifecycle management" PALM. Over the years the gap between product development and software development has been increasing.
As a result, Product Lifecycle Management (PLM) and Application Lifecycle Management (ALM) solutions primarily exist in silos and tend to lack simplified integration. Discover the Polarion Solution Today!
Customer Success Story: PHOENIX CONTACT Electronics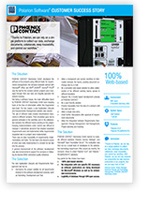 PHOENIX CONTACT is a world-wide manufacturer of components, systems, and solutions in the area of electrical engineering, electronics and automation, founded in 1923 in Essen, Germany. After a six month review process Phoenix selected Polarion ALM and Polarion REQUIREMENTS products for their 400 users across 3 locations.
"Thanks to Polarion, we can rely on a single platform to collect our data, exchange documents, collaborate, keep traceability, and control our workflow. With Polarion, we can not only measure our productivity but also improve productivity in our projects. And we can keep track of this!"
Andreas Deuter, Senior Manager Business Process and Technology Management, PHOENIX CONTACT Electronics GmbH
Your extension could net you
a new Samsung Galaxy S4!
We have officially launched our annual POP Challenge for 2013. Last year we received a record number of submissions and hope to even surpass that number. We have added a twist this year in that you have the choice of submitting either an extension for our free category or licensed extension for our commercial category. Please see our blog for weekly updates.
Webinars
Much of Polarion's success has been on our ability to continually provide our user community with the tools, training and support to help them succeed in their busy work day. Our series of Polarion Webinars is a perfect example of providing innovative and useful content either On Demand or in a LIVE interactive format. Check it out…

On Demand Webinar: MATLAB Integration with Polarion
This webinar will be useful to anyone involved in Product Development using MATLAB who is interested in learning how to integrate with Polarion. Polarion Work Items, improved navigation and traceability reporting; all part of this integration solution is required for compliance with general software development standards. Watch Now!

On Demand Webinar: Easing IEC 62304 Adoption for Medical Devices
If you are involved with safety-critical medical device development join our resident medical device guru Griffin Jones, in collaboration with Jaimie Cole of iCardiac to share their expertise and unique insight on medical device certification and how it applies to your company.
| | | | |
| --- | --- | --- | --- |
| | Griffin Jones | | Jaimie Cole |
The development of safety-critical medical devices presents special challenges at every step, from product conceptualization through design, development and testing, to regulatory approval and post-market oversight and support. This webinar will help you understand the special issues of integrating requirements with software in a regulated environment, particularly in accordance with IEC 62304. Read More…
On Demand Webinar: Achieving and Proving DO-178C Compliance
This webinar is designed to show our customers how to achieve compliance in the aerospace industry. Our solution was developed specifically for the aerospace industry to facility achieving 178 compliance.
Included in the webcast you will preview the new template for use in a collaborative environment. As well as hear from a panel of experts well versed in DO-178C Compliance on how they overcame their compliance challenges.
This webcast will be value if you are involved in the design, manufacture and testing of software and hardware for airborne equipment. Learn More…
Polarion cited to improve your connectivity, integration
and coexistence with IBM DOORS
"With software and controls, that involve mechatronic complexities, the ability to manage change becomes critical to deliver a quality product that meets your customer's needs. IBM DOORS worked well but lacked the key features that are required for efficient use within a global enterprise."— Michael Taylor, IBM DOORS User
Industry leaders continue to benefit from integrating their existing DOORS legacy systems with Polarion to reduce costs, increase quality and improve product development efficiency.
Benefits statements from our Vendor/Supplier Assessment Studies, with leading Aerospace manufacturers, inferred cost reductions by more than 70% when applying connectivity with Polarion solutions and IBM DOORS.
REGISTER NOW for our live webinar on July 25: Polarion and IBM DOORS Working Together
Template Factory:
V-Model + Vacation Administration and Approval
We are happy to announce the following new Polarion project templates fresh from our template factory and provided to you free of charge.
V-Modell Project Template: This V-Model project template supports multi-disciplinary groups (Hardware, Mechanical & Software) providing full requirements with multi-level refinement and complete traceability between all artifacts. This projects framework will automatically create the refining artifacts with required linkage once the artifact leaves draft state if the parent artifact has completed the final approval process. This process will engage team members early in the requirements and testing process but not too early that final approvals have not been made. A complete set of document and testing templates is included.
Vacation Planning Template:
This template helps companies or departments to manage, track and approve vacation requests.


Polarion Joined Global Medical Device Experts
at Medical Device Summit West 2013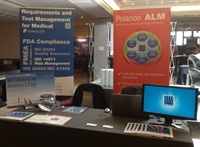 Since the launch of our Medical solution we have been working with over 50,000 users in the Medical Device sector providing our innovative Application Lifecycle Management product. As a Sponsor and Exhibitor at this event, held last month in San Francisco, we provided interactive product demos throughout the event to over 300 attendees. We were able to provide answers to many questions still surrounding compliance issues and industry standards.
Webinar Spotlight:
Recorded Webinars for Medical Devices
Involved with safety-critical medical device development? We have a couple of recent on-demand webinars you can instantly watch for free!
What people have to say about Polarion
"Thanks to Polarion, we can rely on a single platform to collect our data, exchange documents, collaborate, keep traceability, and control our workflow. With Polarion, we can not only measure our productivity but also improve productivity in our projects. And we can keep track of this!"
— Andreas Deuter, Senior Manager Business Process and Technology Management,PHOENIX CONTACT Electronics GmbH
"With software and controls, that involve mechatronic complexities, the ability to manage change becomes critical to deliver a quality product that meets your customer's needs. IBM DOORS worked well but lacked the key features that are required for efficient use within a global enterprise."
— Michael Taylor, IBM DOORS User