Dear Polarion Friends,
The year 2013 started great for Polarion. We won the Software Quality Award once again, successfully defending our 2012 win. To receive this award, companies have to present different use cases for their product with only half a day to prepare.
Polarion convinced the jury and the voting conference attendees with the implementation and presentation of the following use cases: impact analysis, traceability, test execution, and baselining.
In addition, we are in the last phase of the Early Access Program for the 2013 Polarion product release. With this release, we increase our ALM coverage on Diagramming and deepen the Test Case Management functionality.
To add one last great piece of news, we have just launched our offering for Polarion CLOUD™ Hosting - All the capabilities most teams ever need, hosted on the Amazon Web Services™ cloud and installed, optimized and maintained by us in a cost-effective, worry-free package starting at just $99 per user/month.
Stay tuned—the product will be available soon.
I wish you happy reading.
Yours sincerely,
Frank Schröder
CEO of Polarion Software
Polarion Wins "Best Quality Tool Award 2013"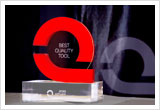 We are proud to announce that this is the second consecutive year Polarion Software was chosen as the "Tool Challenge" winner at Software Quality Days and received the event's "Best Quality Tool Award 2013." Software Quality Days is one of Europe's largest conferences on software quality.
Once again, we faced tough competition, beating out Microsoft and IBM, who came in second and third place. The "smartest solution" is selected by a special jury and the conference attendees who vote for the best product presentation and solution implementation. The selection panel was particularly impressed by how easy it was to use the tool and follow the demo.
Read the full story here: http://blog.polarion.com/archives/2931
Polarion CLOUD™ Hosting

Polarion CLOUD™ delivers a complete hosted solution for your team. Polarion software is optimized in the world's largest and fastest Amazon Web Services™ infrastructure and is installed, managed, and supported by Polarion professionals in a cost-effective, worry-free package at just $99 per user/month.
Polarion handles all IT Services & Maintenance
Your projects are hosted on fast, secure, & scalable Amazon Web Services™ servers.
Your team has access to Polarion CLOUD™ worldwide.

Learn more about Polarion CLOUD™: polarion.com/cloud
Polarion 2013
Polarion power in your pocket
Capture your ideas quickly and right when they happen. With the free Polarion REVIEWER app, access your projects anywhere, anytime from your iPhone. Have the ability to collaborate and comment while on-the-go, check project statuses in real time, and view live project activity streams. Quickly view Polarion documents, work items, and reports. You can also easily search for project content. The application will be available in the App Store at the end of February.
More info on Polarion REVIEWER on iOS: polarion.com/2013/ios.php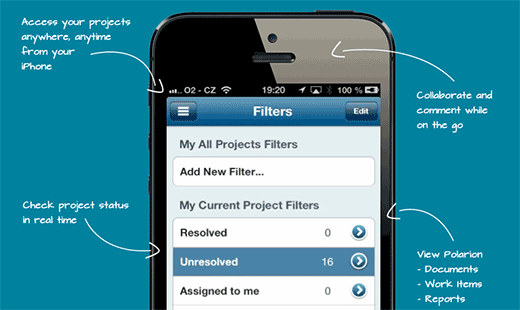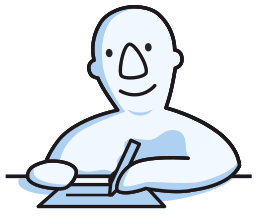 Don't wait - Integrate!
We've been listening to what you've had to say—while Polarion ALM manages the entire lifecycle process, users have been asking for integrations to smoothly connect with external teams who want to keep working with HP QC or JIRA. Two new integration extensions, available in Polarion 2013, do just that.
More info on new connectors: polarion.com/2013/connectors.php
Polarion consultants certified by IREB
(International Requirements Engineering Board)
All of the Polarion consultants who took the IREB exam passed and were certified for the CRPE (Certified Professional for Requirements Engineering) Foundation Level. This certification indicates the understanding and knowledge of analyzing and managing requirements. A total of 10 consultants participated and passed the assessment (100% pass rate for Polarion, overall average pass rate is ~70%).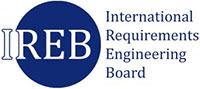 Our consultants apply this knowledge to the challenges and solutions they deal with everyday, where we find that this certification signifies our consultants both know the theoretical content and have practical project experience.
Read more about the certification: http://blog.polarion.com/archives/2872
SD Times interviews our SVP of Strategy & Business Development, Stefano Rizzo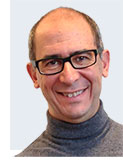 In the SD Times article "Requirements management: Changing paradigms," our very own Stefano Rizzo (SVP of Strategy & Business Development) elaborates on the challenges software development teams face in requirements management.
Rizzo discusses that the "obvious consequence of maintaining different variants in requirements, specifications, and codebases (for Web, desktop, and mobile apps) is an increased development complexity and cost." As a result, retaining reliable traceability throughout the entire application life cycle has also become more complex, which is necessary to quickly analyze the impact of a change.
In this interview, Rizzo also discusses how cloud and agile development speed up the process for software updates and the collection of customer feedback, which are two vital success factors for development teams: "Modern ALM platforms such as Polarion Requirements allow feedback and change-request population by users directly into developers' backlogs, where they can be analyzed, evaluated, selected, and implemented."
For more comprehensive coverage, read here: http://blog.polarion.com/archives/2867
embedded world—Event Preview
Embedded World is known as the meeting-place of the international embedded community that brings you the very latest in embedded technology. Located in Nürnberg, Germany from February 26-28, we are excited to participate in this trade show and conference and hope to see you there. You can make an appointment with our booth staff, or just drop by and meet us at our booth. Carola Hartlieb, Polarion Professional Services, will also deliver an informative presentation on ALM and ISO 26262 compliance.

Featured POP Extensions
Localization of Polarion 2013
This extension localizes Polarion 2013 for the Japanese marketplace
http://extensions.polarion.com/polarion/extensions/extension.jsp?extension=PE-514
Polarion Task Manager
This extension allows users (primarily administrators) to kill a Polarion task that is taking too long to process
http://extensions.polarion.com/polarion/extensions/extension.jsp?extension=PE-508
What people have to say about Polarion Software
"We are excited about Polarion's ability to solve our customers challenges through ISO 26262 compliance. With a fully qualified ISO 26262 solution from Polarion, we are able to dramatically reduce our qualification efforts."
Tamikazu Kohama, Managing Director, Toyo Corporation
"Partnering with Polarion Software was an easy choice. By integrating Loadster with Polarion's industry-leading QA solutions, we can offer our customers a robust test management system to complement their load and performance testing process. Polarion has been a great partner and we've found the Polarion SDK to be well-documented and easy to use."
Andy Hawkes, Loadster Performance