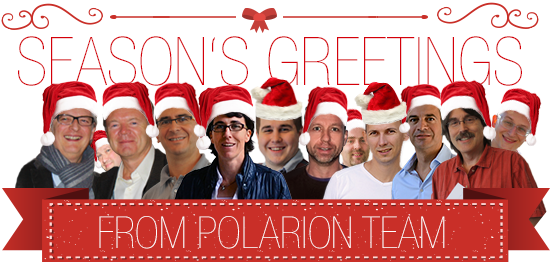 Dear Polarion Friends,
Season's Greetings on behalf of the whole Polarion team– We wish you a successful 2013 and a big thank you for your confidence and loyalty in Polarion.
We finish this year off with very good news. Polarion Software has been qualified by the TÜV Nord as a "Trusted Tool" for functional safety development in accordance with ISO 26262 and IEC 61508 standards. Polarion is the only vendor who has achieved this qualification for all products from Requirements to Test Case and Application Lifecycle Management. This proves the effort and emphasis Polarion provides for enterprise level companies that have a strong demand for compliancy and guidelines.
Our customers who need certification for Functional Safety can be very pleased they have:
a trusted development environment by TÜV Nord
reduced qualification efforts for the tools
This will help our customers reduce the time and cost of the time-to-market development for their products. Please read more about Polarion's qualification here.
This is our mission: Real People - Real Products - Real Benefits!
Yours sincerely,
Frank Schröder
CEO Polarion Software
Riding Safely–Polarion Software qualified as "Trusted Tool" for functional safety standards ISO 26262/IEC 61508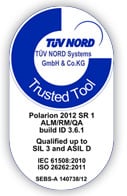 As the first and only ALM vendor qualified for the full application lifecycle, Polarion Software has been qualified for the automotive functional safety standards ISO 26262/IEC 61508 by the third-party certification authority TÜV NORD. Benefits of the "Trusted Tool" qualification for our customers include providing a trusted environment from the beginning of the qualification process, lowering the qualification efforts down to zero (up to ASIL D/TCL 2 Level), and helping customers who need to proof their implemented workflow to a certification body. To read more about Polarion's "Trusted Tool" qualification, visit our blog, or check out our updated Automotive page for full coverage on Polarion's Automotive Solutions and its benefits
Polarion as a recommended ALM Solution by OVUM analysts

It is with great excitement that we share the following news–Ovum has recommended Polarion for our "truly integrated lifecycle solution," where "the traceability benefits of ALM are fully realizable." In Ovum's Polarion ALM 2012 Report, author Michael Azoff goes on to say: "Ovum believes this represents an advantage over ALM vendors whose solutions have grown inorganically."
He later goes on to further discuss why Polarion "would be a good choice," emphasizing "highly competitive" license costs, easy implementation and integration with existing infrastructures, and much more.
For a more comprehensive report on why Ovum recommends Polarion, read the full report for free by visiting our updated page on Ovum.
Polarion 2013:
Achieve better quality fast in Test Management
Polarion 2013 makes it even easier to follow your existing process with clearly defined and customizable test steps, the ability to import existing MS Excel data with test cases and test steps, and the execution of test steps offline.
See what else is new and easy in the Polarion 2013 Early Access Program
New and Improved: Polarion expands support of Test Automation with Polarion QA and xUnit Integration
We are launching a new page dedicated to Test Automation, which highlights how Polarion supports Test Automation and benefits such as full traceability, support for all of your regulatory testing requirements, and integration with your existing test environment. See how Polarion QA improves the efficiency and productivity of the testing process on the new Test Automation page.
In addition, we have added a new POP extensions category for Test Automation with a list of currently supported xUnit test automation applications. We are happy to extend integration support with an extensive list of the most common xUnit Testing Frameworks.
View our blog for more content.
What's recent and new in Polarion Solutions for Agile Software Development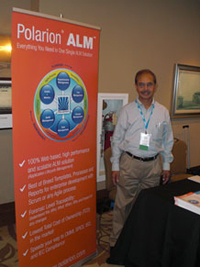 In November, Polarion attended the Keep Austin Agile 2012 Conference. Around 400 people attended, where we attracted attendees to our booth showcasing Polarion ALM and Agile solutions. Check out our blog to learn more about Polarion's presence at Keep Austin Agile 2012.

Polarion's benefits for Agile teams include real-time project reporting, full traceability, the ability to import your existing data from Microsoft Word or Excel, and baselining. Visit Polarion's Agile Software Development page for a full list of benefits, or download a free "Polarion goes SCRUM" eBook to learn how Polarion uses its own tools for success in Agile Development.
You can also watch a free recorded webinar on "Enterprise Agile - Building a Product Backlog"
MKS to SVN Importer: New Version Released
Polarion has actively supported the Subversion community since 2005. One major contribution has been a set of free Subversion tools, and in particular tools for migrating to Subversion from legacy third-party version control tools. Among the SVN migration tools is one that will migrate data from MKS to Subversion: the mks2svn data migration utility. The Polarion Professional Services team recently released a new version of this tool. For more information and download:
Read the announcement on the blog
Info on the Subversion Importer page
Download
Blog Series: Recovering Deleted Polarion Data
While accidentally deleting a Polarion Work Item or LiveDoc document is not the ideal situation, chances are that its recovery is relatively easy. Thanks to Polarion's integration with Subversion, changes and deletions are automatically tracked. Our two-part series provides a guide on how to deal with deleted Work Items and LiveDocs with visuals for easy learning.
Read Part One with Part Two coming soon.
Free On-Demand Webinar: Improve Software Verification and Validation in Regulated Environments
Learn more about the latest topics on software development environment with trackable results. Join speakers from both Polarion Software and Vector Software, and catch this free on-demand webinar to learn how to achieve your business goals in the software development cycle with real-time traceability, requirements management, comprehensive impact analysis, and more. Register at no cost today, and also browse our Events & Webinars page for a full list of free online learning opportunities.
Polarion at Bits&Chips Embedded Systems 2012 Conference through Dutch partner Mithun Training & Consulting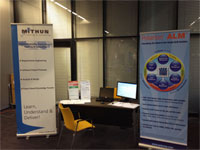 The Bits&Chips Embedded Systems 2012 conference is an international annual event for embedded and real-time systems engineers, taking place on November 8th in 's-Hertogenbosch, Netherlands. The conference has a track record in the Netherlands for being a major forum for industrial and academic practitioners in embedded systems. Polarion partner Mithun is a key software tool, training, and consultancy player who presented their offering at the trade show, successfully meeting the interests of participants.
Polarion at Embedded Systems Week 2012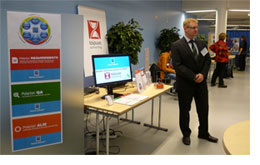 Embedded Systems Week is an international annual event, bringing together conferences, tutorials, and workshops focused on embedded systems research and development. Polarion partner Taipuva Consulting, had a successful appearance at the System-on-Chip (SoC) exhibition from 10-12 October. Polarion impressed attendees with great technical solutions and open architecture including versatile interfaces that allows useful integrations. The event also offered networking with both top-notch industry and academic people from all around the world.
More information on Embedded Systems Week
About SoC co-organized with ESWEEK
What people have to say about Polarion Software
"Most significantly, Polarion has a good, powerful and easy-to-configure core. In addition, a dedicated team of Polarion experts does extend the application with big steps in improvements, including usability - plus you receive great support."
Bernhard Brand, em-tec GmbH
"We are just thrilled seeing Polarion's tools now being qualified for ISO 26262, as this will save us a lot of time and money in our own qualification process. We use Polarion's solution throughout our development lifecycle for requirements tracking, release packaging, testing results, and traceability coverage for vehicle hazards ISO 26262."
Maria Eugenia Zuniga, Quantum Technologies