Dear Polarion Friends,
Gartner's new report "Magic Quadrant for Application Lifecycle Management" was released this month and we at Polarion are quite pleased with the positioning and the validation of our solution by Gartner.
For more information about this analyst report, please drop us an email at info@polarion. With this report Polarion has achieved broad coverage with the leading industry analysts Gartner, OVUM/Datamonitor and IDC.
I worry a bit that this newsletter is over long, but the fact is: Polarion is on the move and there's been a lot happening that I feel is important to share with our many customers and friends. So I wish you happy reading!
Yours sincerely,
Frank Schröder
CEO Polarion Software
Help for the "Agile or Compliant" Conundrum
More and more companies, even in highly regulated industries, are going with (or at least investigating and piloting) Agile methods in their software and product development. The big challenges are:
How can you stay agile and still satisfy the regulators?
Can you actually be agile when requirements management and test management are key for your time-to-market?
How can you still mitigate risks of project and product failure?
The key to success is having the right tools. We've put up a new web page that can help you find a solution to overcome your Agile challenges:

Feature in Focus: Test Steps
Polarion version SR1 was recently released with Test Steps for Polarion QA Test Cases. Now your testers can verify and record not only the overall passed-failed-blocked result of manually executed test cases, but also the result of each individual test step. When a test case fails execution, your development team can easily see exactly where the failure occurred. Download our product trials or take an online test drive now to see SR1 in action:
Polarion REQUIREMENTS | Polarion QA | Polarion ALM
New Key Strategic Partners
It is with great pleasure that we announce two key strategic partners in North America. The first, TRICENTIS has been a long-time partner in Europe and they have now forged an integrated marketing, sales and technical partnership with our US division. The second is Loadster Performance, which offers load and performance testing applications and services that will be tightly integrated with Polarion QA. Welcome to the Polarion ecosystem!
Learn more about our partners and the value-add they provide you.
POP Challenge Reminder
It's been exactly 2 weeks since the kick-off of our Polarion POP Challenge 2012 and we already have 4 excellent submissions! You don't need to wait for the contest end to check them out: they're already on our POP Extensions site. There are still 2 months before the entry deadline and we anticipate some very difficult decisions for the judges! This year's contest winners, who will walk away with some nice prizes, will be announced on the exhibit floor at STARWEST on Thursday October 4th at 2 p.m. U.S. Pacific time.
Learn more and submit your extension app
STARWEST on the Horizon – Meet Us Live or Virtual
Although summer is just beginning, we want to remind everyone that we will be exhibiting at STARWEST this September. Besides attending the live conference, we will also be presenting an informative ITP session on QR Codes and Testing – both on the live floor and in the virtual conference!
Learn more about Polarion Software and STARWEST and make an appointment with our booth staff: http://www.polarion.com/starwest/
TIP: You don't have to wait until September to see Polarion at a STAR conference. Watch Polarion Software's David Merrill speak about "Collaborative Web-based Testing for Product and Software Development" at STAREAST 2012. Video of the presentation is here: http://www.polarion.com/company/events/stareastondemand.php

Polarion Software Comes to "Emerasoft Day 2012"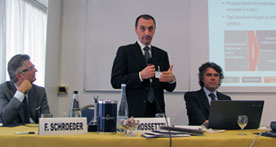 Polarion Software CEO Frank Schröder presented the future vision of ALM and the newest addition to Polarion Software's product portfolio: Polarion QA. Customers are excited about the innovative partnerships and the launch of the "University" in order to share skills through free webinars and professional trainings.

A couple of attendees did some super Polarion showcasing:
Vodafone, with the help of Spindox, shared its experience using Polarion in its application governance, achieving compliance with high quality standards.
TRS pointed out Polarion solutions' compliance with methods and quality standards like CMMi and Cosmic.
Moreover, the CEO of new Emerasoft partner Yellowfin, streaming live from Australia, presented their innovative solution in Business Intelligence, already integrated in Polarion by Emerasoft. Thanks to all attendees for visiting Emerasoft Day 2012.
Polarion Featured at Expo:QA in Madrid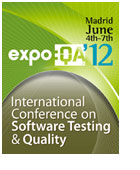 Polarion had a successful appearance on 6-7 June at the International Conference on Software Testing & Quality thanks to our Spanish partner CastInfo, who optimally proposed our ALM platform as best way to manage QA practices within the complete ALM cycle, and focus on the capabilities of the new Polarion QA product. The expo, together with the conferences focused on testing, was organized by Nexo QA to encourage best practices in the IT and Software Engineering industries. See www.cast-info.es/home/eventos.html
CastInfo is a leading provider of IT Solutions and Services since 1993, specializing in global IT projects, software development, application maintenance, outsourcing and IT training.
What our Customers have to say
"We decided on Polarion Software's Test Management solution for several reasons. The most important driver of our decision was the simple and very fast migration and project implementation plus the unique integration with MS Word and Excel. The continuous traceability, the response of the Polarion team to our use case scenarios, and the excellent price-performance of the solution have also been important."
Otto Opietnik, ITSV GmbH