Season´s Greetings on behalf of the Polarion team – we want to take this moment and thank you for your continued support and your partnership with Polarion over the past year. We wish you a happy and prosperous 2012. With the New Year will come the awaited release of Polarion 2012 - available in Q1/2012.But there´s no need to wait – join the Early Access Program now to receive an overview of the great new features and functionality that await you. Register for the program.
As Polarion software continues to be adopted as the number one choice for Requirements Management and ALM we welcome more and more organizations from the automotive industry as adopters of our solutions. Our automotive customers include such world-class companies like Daimler, FIAT, Deutz and ATMEL. See why these automotive leaders have selected Polarion´s solutions to manage all their ALM requirements and safety standards such as ISO 26262, SPICE and CMMI.
Please ensure you join us in 2012 at one of our complimentary educational Webinars or meet with us at one our scheduled Events for 2012 – learn more on our events calendar.
We wish you a safe and happy holiday season.
Yours sincerely
Frank Schröder
CEO, Polarion Software
Working with our User Community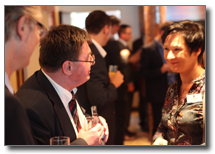 At Polarion we value and appreciate our user community. Our goal is to continually provide relevant, proven, timely, accurate, and easily accessible expertise on Requirements Management and Application Lifecycle Management tools and industry best practices. We are constantly engaging with our community by providing educational webinars, workshops, user conferences, blog articles, newsletters and industry white papers. These valuable tools and more can all be found at www.polarion.com and downloaded for free.
Most recently we participated as a Gold Sponsor at the ALM Expo Virtual Conference November 9-10. Polarion presented to over 200 users on the state of ALM in their day to day business processes. Stefano Rizzo, VP Strategy & Business Development with Polarion delivered an impactful presentation on where ALM came from and where it´s going. Stefano reiterated that new rising stars are rapidly demolishing dinosaur technologies. To learn how your organization can benefit from an enhanced ALM tool and workflow view Polarion´s products and solutions, review Stefano's presentation or join us for a free webinar.
OVUM´s Industry Report on Software Lifecycle Management – Don´t miss this limited time offer to download the OVUM Report - a $400 dollar value FREE to you but only for 15 more days – don´t delay! Read why Polarion is acknowledged as a leader in client engagement, service capabilities, product quality and customer support.
Supporting the Medical Device industry´s standards and compliance, Polarion´s Solution for Medical Device Manufactures is now readily available. Join the over 30 global medical manufactures who use Polarion´s solutions every day such as; Curtis, Sirona, Medtronic and Maquet. Acclaimed for their innovative solution, by employing Polarion´s seamless integrated solution you will improve your project productivity.
Test Management in Polarion 2012
Our Polarion 2012 Early Access Program has been underway for some time now, and we are regularly sharing information about planned features and concepts with our early adopters. We´ve been impressed with the amount of valuable input they have already provided to our product team, and we´re working to incorporate many of their suggestions.

Ahead of new major versions we share with you some short videos to introduce key new features. For Early Access members we try to explain concepts in a bit more depth in so-called "Sneak Preview" videos. Let me highlight the one about Test Management. The support for Quality Assurance and Test Management is improved heavily in Polarion 2012. We did some improvements in our back end and modeled some new business entities so following will be achieved in the next major release:
Separation between Test Specification and Test Execution: this improves the ability to plan and reuse the test cases in different test projects and environments, as well as search for results by category, platform, tester etc.
Automated test case as a first class citizen for traceability and test automation. The automated test case has the same role as the manual test case, and integration with 3rd-party test automation tools is a must-have capability.
Rich feature set that makes the life of testers easier: test execution panel for manual tests in Polarion, offline test execution via Excel round-trip, out-of- box test run templates, reports, and much more.
Sound interesting? Would you like an early access build to try for yourself? Watch for more on our blog and sign up for the Polarion 2012 Early Access Program.
Polarion 2011 Service Release 3
As you may already know, we are intensively working on the next major release, Polarion 2012. However, we also keep focused on our current production version, Polarion 2011, and so recently released Polarion 2011 SR3 with ongoing improvements in usability, stability and performance.
Hopefully you also noticed that during this year we published a number of small isolated new features as part of service releases. We continued this in SR3. So as our Christmas present we deliver to you:
A new Document sidebar pane that renders table of contents and document structure so you can easily navigate across your data any time.
New Cut and Copy items in Document Work Item menu to help you with copying of Work Items from Documents.
Bulk edit now lets you process even thousands of items in chunks without need to reformulate the original query.
Bulk copy (Duplicate) lets you copy and convert multiple items from one type to another all at once.
You can now move your project to another location and the history is not gone (sorry you were waiting so long for this!)
Actually there´s even more in SR3 - this is just a sweet selection. For the complete list of what´s new, see the Version History at www.polarion.com/products/ver_history.php
New POP Extension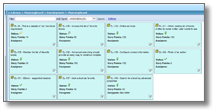 The extension Blues - Agile Planning Board for Scrum improves Polarion´s Scrum capabilities by adding a dynamic planning card view:
Card view - shows user stories as graphical "cards", sorted by priority and severity with Scrum specific information like story points.
Planning game - quickly drag and drop you work items to iterations and / or user baskets to plan your product backlog or balance users work load.
The extension can be integrated perfectly into the ALM template delivered with Polarion, all settings are read from Sprint Administration wiki page. Learn more and download from our POP website.